Other Recordings & Credits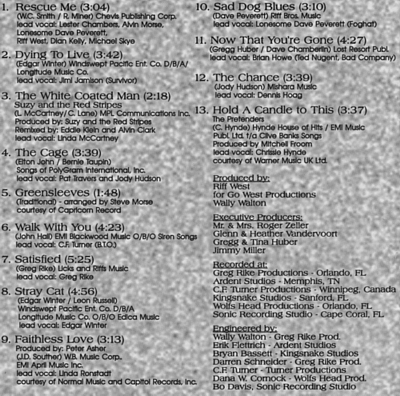 A compilation CD released in the early 90's, Animal Magnetism was recorded and released to benefit organizations that cater to the needs of homeless pets. In addition to being a co-producer on this CD, I was honored to have one of my original compositions included. "The Chance," track #12, is one of my tunes; however, I thought it sounded much better sung by a male voice; so Dennis Hoag, an incredible Central Florida vocalist and musician, did the vocal honors on this tune. The song also includes a beautiful guitar solo by the late Ronnie Garvin, by far the most tasteful guitarist to ever grace the planet. On track #4, "The Cage," I had the pleasure of singing a duet with Pat Travers on this Elton John tune. This CD sold very well and we were able to spay and neuter and find homes for many homeless and abandoned animals. I happen to be the custodian of the remaining copies of this CD, so drop me an e-mail if you would like to buy one and I will reply with the details for ordering.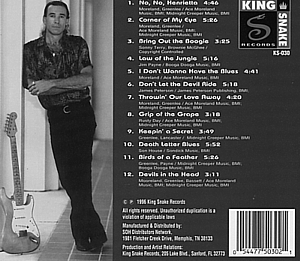 I was extremely honored to be asked to sing backup vocals on this great CD by the late, great Ace Moreland, a legend in the world of great blues artists. I sang on the following tracks: "Law Of The Jungle," "Don't Let The Devil Ride," "Throwin' Our Love Away" and the title track, "Keepin' A Secret." You can contact King Snake Records directly to possibly obtain a copy of this CD, as well as Ace's other CD's. The phone number for King Snake Records is 407.323.6043.
Another great bluesman that recorded at King Snake Records, Lou Pride. A big man with a big voice, it was a pleasure being asked to provide backing vocals on the following tracks: "Might Give Out," "Sweet Voice" and one of my all-time fav's, "I Had A Talk With My Baby." For info on buying this CD, go to the following link: http://www.answers.com/topic/i-won-t-give-up
Bill Wharton, a/k/a "The Sauce Boss," was kind enough to let me warble some backup vocals on this great CD, also recorded at King Snake Records. My contributions can be heard on "Sugarbone" and "Havana Moon." If you'd like to order a copy of this CD, visit the link below, and explore the entire site while you're at it. http://www.sauceboss.com/music.htm
RETURN TO RECORDINGS MAIN PAGE